Eyelash Extensions :
Getting your first set of Amazing Lashes is a relaxing enjoyable experience. Your private suite is equipped for comfort and relaxation. You lay on a comfortable massage table with your eyes closed while your stylist applies your eyelash extensions. The application process is wonderfully relaxing and rejuvenating. Clients often fall asleep then awaken to longer, thicker and more voluminous eyelashes.
One of our Amazing Lash Stylist will attach one of our light-weight eyelash extensions to one of your own eyelashes approximately 1mm from your eyelid with pharmaceutical grade adhesive. Your stylist will use a proprietary pattern of lengths and widths to develop the style you choose. Your first full set requires approximately 1 1/2 to 2 hours. When your natural lash sheds, the extension will remain attached to the lash as it falls out. To maintain a full appearance, it is recommended to schedule a refill every 2-4 weeks. Your refills can be completed in approximately 45-60 minutes.
How are lash extensions applied?
Eyelash extensions are applied one by one, with one lash extension being applied to one natural lash, while lying down with your eyes closed. We use natural-looking, synthetic mink eyelashes developed to mimic your natural lashes. The look is achieved by a meticulous and artful application of synthetic lashes, applied one by one to your natural lashes by one of our highly trained lash stylists.
Preparing for your Appointment:
Please arrive with clean and makeup free eyes by thoroughly cleansing your eyelids, lashes and under eye area to remove all liner, makeup, eye creams and lash conditioners. Do not use a lash curler 24 hours prior to receiving a new set of lashes. It is also best to avoid caffeine prior to your appointment as this causes fluttery eyes. The appointment is very relaxing and you will get the most out of it if you are relaxed and still. Please use the restroom, arrive 10 minutes early to your initial appointment to fill out paperwork, and silence your cell phone.
Lash Aftercare:
You can enjoy your beautiful new lashes with little need to adjust your lifestyle. Proper care and maintenance of your new eyelash extensions will ensure they remain beautiful and luscious!

To maintain optimum appearance and extend the life of your lashes, follow these tips & easy care instructions:

Avoid getting your lashes wet within the first 24 hours to allow the adhesive time to dry thoroughly.

We recommend sleeping on your back to ensure your lashes do not become tangled. In the morning, use a lint free applicator or lash styling brush to gently separate and groom your lash extensions.

Avoid hot steam from the shower and sauna as well as swimming and tanning salons altogether for the first 24 hours. After this period try to keep sauna, steam room & tanning visits to a minimum as the application of constant heat may cause the adhesive bond to weaken.

Avoid using harsh mechanical eyelash curlers as they can break both natural and synthetic lashes.

Avoid using any oil based cleansers on or near the eye area. Instead, use a water-based cleanser and a lint free applicator or makeup cleansing brush to gently remove makeup from around the eye. Do not use cotton balls, cotton rounds, or swabs directly on the eyelashes as the fibers may get lodged in the bond area of your lashes. It is important to cleanse your lash line daily to remove dirt, oil, makeup, pollen and dust to ensure that your hair follicles stay healthy. Doing so will give the lashes their best retention.

Although mascara is not necessary with your lash extensions you can use it sparingly, on the tips only. Avoid using oil based or waterproof mascara.

Avoid using any oil based products on or near your lashes. Oil will dissolve the adhesive bond! Use water or gel based cosmetic products instead.

Avoid Chemical Peels, Alpha Hydroxy, Beta Hydroxy and other highly acidic substances while wearing lash extensions. These substances will dissolve the adhesive bond.

Above all, be gentle! Do not pick or pull your lash extensions and refrain from excessively rubbing your eyes.
24 hr Tips: Remember that the first 24 hours are especially crucial for the bonding to properly occur! Common activities you need to avoid during the first 24 hours include showering, washing the eyes, tanning, applying creams or lotions to the eye area, applying mascara or any eye makeup, excessively touching the lashes, spas, saunas, steam rooms, swimming, exercising, contact lens solutions and sleeping on the lashes.
Daily Tips: The most common causes of lash extensions falling out before the end of your natural lash life cycle include excessively touching the lashes, use of oil based products, layering on excessive amounts of mascara which requires excessive cleansing, and frequent exposure to heat sources such as spas, steam rooms and tanning salons.

Lash Extension Services
Our lash stylists are all highly educated, licensed professionals.
Classic Lashes:

This is best for an every day look that leaves a lasting impression. Lashes appear thicker, longer, darker and fuller. This set includes 1hour 15min of lash artistry and covers up to 90% of your natural lashes. Your lash stylist will help you choose the length, curl, and eye shape to capture this glamorous look!
Full Set: 1100kr
Volume Eyelash Extensions:

Volume lashes are a new and advanced technique in the beauty industry that creates softer, fluffier lash extensions, along with a fuller lash line. It takes lash extensions to a whole new level of gorgeous! The difference from the classic design and volume design is the diameter and weight of the extension to achieve fullness. The classic is 1 soft, thicker extension individually applied to achieve fullness. The volume is 2-3 fine extensions applied and fanned out for a voluminous look.
Full Set: 1350kr
Dramatic Volume Design: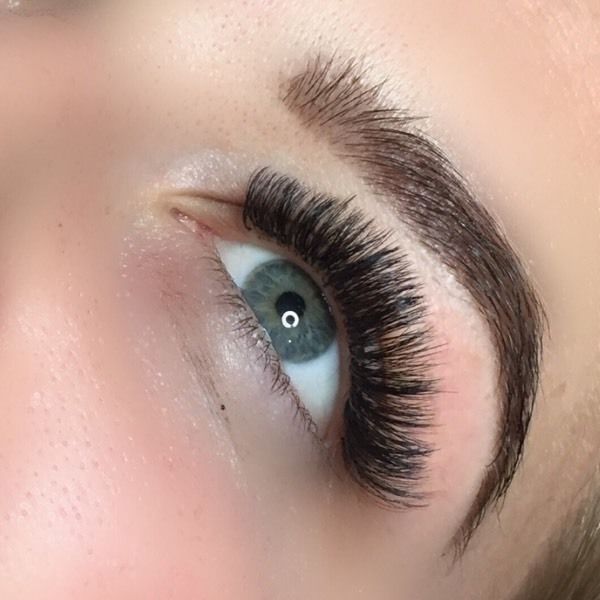 The ultimate volume, definition and look. Multiple weightless extensions are applied to a single natural lash to create depth, volume and texture. This set includes 2 hours of lash artistry.
Full Set: 1650kr
Mix Lashes:
This set is a combination of classic and volume lashes.
Full Set: 1250kr
Lash Fills

Costs are for a 60 minute fill, the average and recommended amount of time. Shortened or extended appointments are available.
Classic Lashes Refill 2/3/4 weeks - 400/500/600 kr
Volume Lashes Refill 2/3/4 weeks - 500/600/700 kr
Dramatic Lashes Refill 2/3/4 weeks - 600/700/800 kr
Mix Lashes Refill 2/3/4 weeks - 450/550/650 kr